---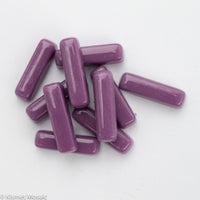 Purple - Gloss - Glass Mini Rectangles
Recycled Glass Tiles
Gloss finish
Dimensions are 20x5x6mm.
These glass tiles are sold in 3 different quantities:
1oz - (approximately 21 pieces)
2oz - (approximately 42 pieces) 
4oz - (approximately 84 pieces)
8oz - (approximately 168 pieces)
These rectangles are a great choice for any DIY craft or mosaic art that you want to create. They would work well for borders or making letters.
Work nicely with ceramic shapes: Teardrops, Petals and Rectangles. 
Use wheeled nippers to cut.
UV and Frost resistant
Can be used indoors and outdoors.  
Inventory 8/15/22
Restocked 9/12/23