---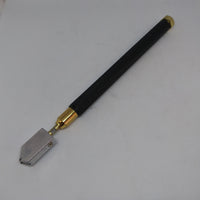 Sale
Toyo Brass Pencil Grip Glass Cutter
I've put all of the stained glass supplies on closeout.
Uses an in-barrel oil-feed system to allow an extremely sturdy design.
Textured barrel fits all hand sizes and can be gripped in a traditional manner or like a pencil. Large head, small wheel, head pivots to allow for more fluid cutting. 
Inventory 12/12/22