---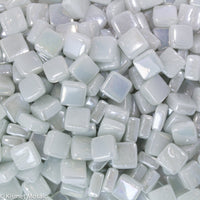 8mm Pale Grey Iridescent Mosaic Tiles
Recycled Mosaic Glass
Please note: The manufacturer has discontinued this color. When the current stock is gone this color number will be as well.
8mm is 5/16" or slightly larger than 1/4" in size. 4mm depth.
These glass tiles are sold in 6 different quantities:
1oz - (approximately 22 pieces) 

2oz - (approximately 45 pieces)

4oz - (approximately 90 pieces) 

8oz - (approximately 180 pieces)

16oz (1 pound) - (approximately 360 pieces)

Sample - a tile or 2 to give you a feeling for the color and size of the tiles
Coverage:

1 sq. ft. = approx. 1 lb 8 oz or 1089 pieces.
UV and Frost resistant.
Can be used indoors and outdoors.
For FAQs on Kismet Glass, including 'how much to order', see Product Info tab.
Great fun for a DIY crafters, beginners and/or professionals of mosaic art.
Can be used for Micro-mosaic artwork.
Inventory 6/14/22