---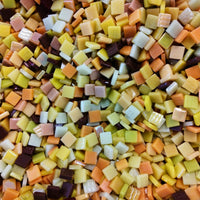 Sale
12mm Sunflower Colors Mosaic Tile Mix
Mix of yellows, tan, and browns.
Recycled Mosaic Glass
These 12mm glass tiles are sold in 3 different quantities
4oz - (approximately 90 pieces)?ÿ
8oz - (approximately 180 pieces)
16oz (1 pound) - (approximately 360 pieces
1 sq. ft. = approx. 1 lb 8 oz or 1089 pieces.
UV and Frost resistant.
Can be used indoors and outdoors.
For FAQs on Kismet Glass,?ÿincluding 'how much to order', see?ÿProduct Info?ÿtab.
Inventory 4/24/23