---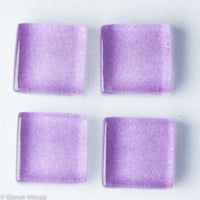 Lilac - Krystal Glass Tile - 10mm (3/8")
Crystal Mosaic Glass Tiles
10mm (3/8"), 4mm depth:
1 sheet (11.75" x 11.75")--676 tile

Suitable for interior and exterior applications. The colorant is fused to the back of these glass tiles and then high fired in kiln. This creates a beautiful rounded edge and extremely smooth finish. Cuts fairly cleanly. Use wheeled nippers to cut.
* The tiles come face sheeted
*If needing more square feet than we show in stock, please email to inquire about special order quantities 
Inventory 12/16/22