---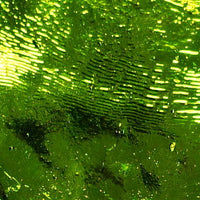 Seaweed Mirror Pieces
Each mirror rectangle measures approx. 2" x 6" x 1/8" thick (5cm x 15cm x 3mm)
Comes as individual pieces
These rectangles are versatile and practical, either used whole or cut to make smaller squares or rectangles. It cuts easily using regular mosaic or stained glass cutting tools.
Although the back is sealed with epoxy paint, it is advised that a neutral glue such as PVA or mirror mastic is used rather than cement or mortar.
These are made from Tiffany-style colored mirror.
Mirror is fragile and we wrap well but please note that these are shipped at the buyer's risk.

Inventory 6/28/23