---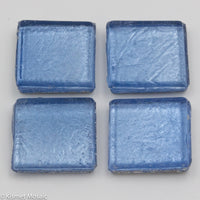 15mm - Iris Blue - Foil Glass Tile
15mm (9/16"). Depth is 4mm.
Coverage: 1 sq. ft. = approx. 580 pieces. (12 7/8" x 12 7/8")
These tiles are made from molded transparent glass with full body color and then metallic foil heat is heat fused to the back to produce a vivid mirror-like reflective tile. This line is a reproduction of Sicis Colibri, but is much more affordable.
UVA and frost resistant
Adhesive: Weldbond (any pH neutral glue), Thinset, Silicone.
Metallic fused backing
Tape mounted (on front)
Usage/Application: 
Bathroom, Fireplace, Floor, Frost Resistant, Hobby, Indoor, Kitchen, Outdoor, UV-A Resistant, Walls. Don't use in pools or wet areas with chlorine.
Inventory 12/22/22
Restocked 9/18/23, 2/4/23