---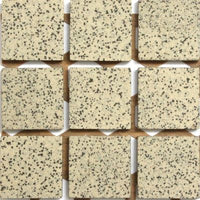 Brown Mottle Porcelain Tile 20mm x 20mm
Remarkably durable and resilient, these matte tiles can be used for all inside and outside mosaics, flooring and paving. Nonslip and very strong, they are an excellent choice for garden mosaics, patios and stepping stones. If using in wet areas, remember to seal this tile with a stone sealer to prevent water or chalk markings and stains.
We recommend investing in the wheeled nipper from Rubi or a good table model tile cutter.
Sold in 2 quantities:

Quarter sheet of 49 tiles 
Eighth of sheet of 24 tiles
Square foot segments and samples available here.
Full-bodied vitrified porcelain
Extremely hard wearing
Matte, non-slip finish
UVA-resistant
Frost-resistant
Suitable for floors or commercial applications
Suitable for use indoors and outside, in all weather
Mounted on fiberglass mesh
May be cut using porcelain wheeled nippers (e.g. Rubi or Liponnet)
Inventory 12/29/22